The MPS Process Outlined
What's the benefit of an MPS solution compared to traditional printer fleet management and how do I know if it's suitable for my business?
Regardless of the nature of the business or size of the company, Managed Print Solutions is essential to save money, time and resources – a must in today's competitive market place.
PCI Group can deliver real advantages to your organisation with Managed Print Services (MPS). Through both device and software centric approaches you can implement a progressive and tangibly beneficial print usage system.
Our highly professional Managed Print Services team will work with you to identify and evaluate how your organisation, whether it be a business, educational institute or public body, can optimise your document output.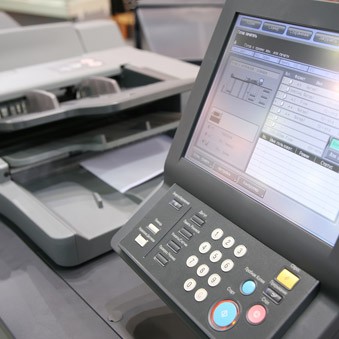 The Five Steps in Our Managed Print Service Solution
1) Request a Call Back!
The first step in evaluating if a Managed Print Service is to speak to one of our MPS Specialists. They can briefly walk you through the process and give you an idea of the type of investment that may be required to determine if it fits with your business set up and budgets in the immediate term or perhaps is something you should plan to implement in the medium term.
2) On-Site Assessment & Consultation
Analysing the business situation and advising in order to find an optimal solution for the business and improve workflows
Print Audits, mapping and user interview are used to establish existing print assets, patterns and print volumes (this will be used to establish the three tier costs. What the print and when
Detailed analysis of needed and recommended print services to best optimise your business process requirements
Designing the print fleet that fits concrete business needs with visualisation on the basis of actual floor plans or locations where possible
Measure energy consumption and carbon footprint
3) Strategic Planning
Post MPS Assessment, our MPS Specialist will develop a proposal unique for your organisation's requirements. There is no 'one size fits all' approach with MPS, so our solution design will focus specifically on how to reduce the quantity of printers, photocopiers, faxes and scanners in favour of multifunction devices (MFDs) to continue to meet, if not exceed, your users' requirements. An outline of the software to be utlised will be included so that the terms and benefits around consolidated billing and monitoring efficiencies will be clearly explained.
4) Implementation
More than just installing a new print solution, we offer change management, to the extent required by the customer. This process includes
An organised and controlled process from start to finish, with regular reporting o progress
Technical consulting and support during any test periods
Tailor made training for key users and internal support staff
Customised instructions
3) Ongoing Automated Monitoring and Management
After initial testing and the establishment of the new print infrastructure, at PCI offer a tailored portfolio of services to run and manage your print fleet
Regular management reports to review and search for further improvement and optimisation
Continuous supervision of all networked and locally detached print devices with online access to status information, performance indicators and reports
Pro-active management and solutions through our remote system for automatic delivery of consumables and other notifications associated with the print devices
To learn how Managed Print Services can reduce your printing, request a call back and we'll talk you through the MPS Assessment Process in more detail.

You may also be interested in reading our latest MPS blog post...